Last week I had the pleasure of attending Matthew Gardner's 2021 Economic Forecast. Matthew is Windermere's Chief Economist and coveted expert in our region often called upon by the local and national media for his insights on the economy and housing. Windermere has relied upon his forecasts and advice for over 15 years, and we were lucky to appoint him Chief Economist in 2015. He has been a huge asset to Windermere brokers who utilize his knowledge to help educate their clients in order for them to be empowered to make strong decisions.
Here are Matthew's Top 10 Things to Look for in 2021:
#1 THE ECONOMY. Matthew expects the economy to continue to recover from the impact caused by the pandemic. He notes that we have already started to see jobs return, but with the vaccine starting to be administered he predicts additional gains in jobs over the second half of the year as businesses start to re-open at full capacity. In addition to jobs, he shared that many Americans have not been spending money like they typically do and have excess cash to spend, leaving many folks eager to travel, make big purchases, or just go out to dinner. The combination of re-opening and more disposable spending will help re-build industries hit hard like entertainment, hospitality, and dining. Supporting small businesses within your community was also something he encouraged consumers to engage with as that will trickle back into the recovery of the overall economy. He expects an increase in spending and additional job creation to boost the economy as we head into spring and summer.
#2 SURGE TO THE 'BURBS. In 2020 we saw a large number of buyers moving to the suburbs due to the work from home (WFH) phenomenon and affordability. Living in urban areas is more expensive, and with many companies planning on continuing to let their employees WFH indefinitely or half-time moving forward, this has reduced the importance of commute time on a buyer's wish list. This has also afforded buyers larger homes and yards in comparison to the more compact urban options. Do note however, that Seattle is not losing population, as the net in-migration figure for Seattle in 2020 was up 3.3%.
#3 PREFERRED HOME FEATURES. What buyers are looking for in a home is changing. Open-concept floorplans used to be all the rage, but now buyers are looking for separate spaces where an at-home office or Zoom space can be incorporated. Outdoor living areas are also coveted due to the option for year-round entertaining and/or exercise/home gym space. Rural homes with high-speed internet are coming at a premium as these properties create room to roam and the option to WFH.  Not all rural areas have the infrastructure in place to support the technology needed to WFH, so the areas that do are in demand.
#4 INTEREST RATES. In 2020, we broke the all-time low for interest rates 16 times! We are currently under 3% and down an entire point from the previous year. This has fueled demand in all segments of the market, particularly first-time homebuyers, luxury buyers, retirees downsizing, and move-up buyers. Note that a one-point drop in interest rate gives a buyer 10% more buying power, which is helping off-set the expense of price growth. While Matthew anticipates rates rising in 2021, he expects them to settle around 3.1%. With the long-term average at 7.9%, a bump up above 3% is still something to celebrate and will continue to be the gas in the tank of buyer demand.
#5 MORTGAGE FORBEARANCE. In the spring of 2020, the banks were quick to offer the option of mortgage forbearance in response to the job losses created by the pandemic. Many homeowners that needed to, took advantage of this option. The good news is that since May there has been a 43% reduction in participants in the program. Currently, there are 2.7M people in the program, many of which are returning to work and will be able to continue with their mortgage payments. For those that will not be able to afford the monthly payments, the option to sell after double-digit year-over-year price appreciation in markets such as WA, CO, OR, MT, and ID will provide a financial benefit. Matthew disagrees with the naysayers that think we are sitting on the brink of a wave of foreclosures in our region as equity levels are in favor of a homeowner selling vs. giving their home back to the bank. Buyer demand is also at an all-time high ensuring a plentiful homebuyer audience.
#6 HOME PRICES & SALES. Strong buyer demand will continue due to low interest rates and lifestyle moves influenced by the option to WFH and Baby Boomers retiring. Matthew believes we will have an increase in closed sales in 2021 and that we will continue to have price appreciation. Bear in mind that we are coming off above-average year-over-year price appreciation in 2020 (up 12% in Snohomish County & 7% in King County), and he expects price growth to temper in 2021 year-over-year which will help with affordability and rate increases.
#7 LUXURY HOME MARKET. 2020 was an amazing year for the luxury home market, with closed sales over $1M in King and Snohomish Counties up 30% and over $2M up 28%. There was a brief stall in the spring when jumbo loan rates surged and were in some cases unavailable at some banks. By May, jumbo loans found their place in the market, and homebuyers in the upper price points were able to enjoy the historically low interest rates as well. Matthew sees this continuing in 2021 along with more foreign buyers coming to the market with international travel opening back up in the second half of the year.
#8 ZONING. Matthew sees affordability as the biggest challenge in our market and zoning changes are the most efficient way to solve it. He expects legislators to have more discussions about adjusting zoning policies to create more affordable housing. He does not expect this to happen overnight or even in 2021, but for the stage to start to be set to make progress in this arena.
#9 APARTMENT RENTAL MARKET. The pandemic has been rough on the rental market, especially apartment rentals in big cities such as Seattle. The WFH option and a newfound aversion to shared living spaces have driven increases in vacancy rates. This has caused rental rates to decrease, and with an anticipated bumper crop of new apartments set to come to market in 2021 this segment of the market will take some time to recover due to supply and demand. Single-family rentals have fared much better than apartments. We expect the eviction moratorium to be lifted in tandem with increased vaccination rates and the rebound of the job market.
#10 ADAPTIVE REUSE. While the expense to convert apartments to condominiums is cost-prohibitive, he sees some opportunity to convert some hotel spaces to residential living. This goes in-line with creating more affordable housing and could be a positive economic option for motel or inn owners that have suffered during the pandemic. Other adaptive reuse options due to the surge in online commerce would be shopping malls converting to mixed-use (commercial with residential) space, and strip malls being bought out by developers for residential units.
Overall, Matthew's take on the economy as we head into 2021 is hopeful and on the housing market extremely positive. If you would like the recording of his forecast or the Power Point slides in PDF format to review the data yourself, please reach out. It is always my goal to help keep my clients informed and empower strong decisions.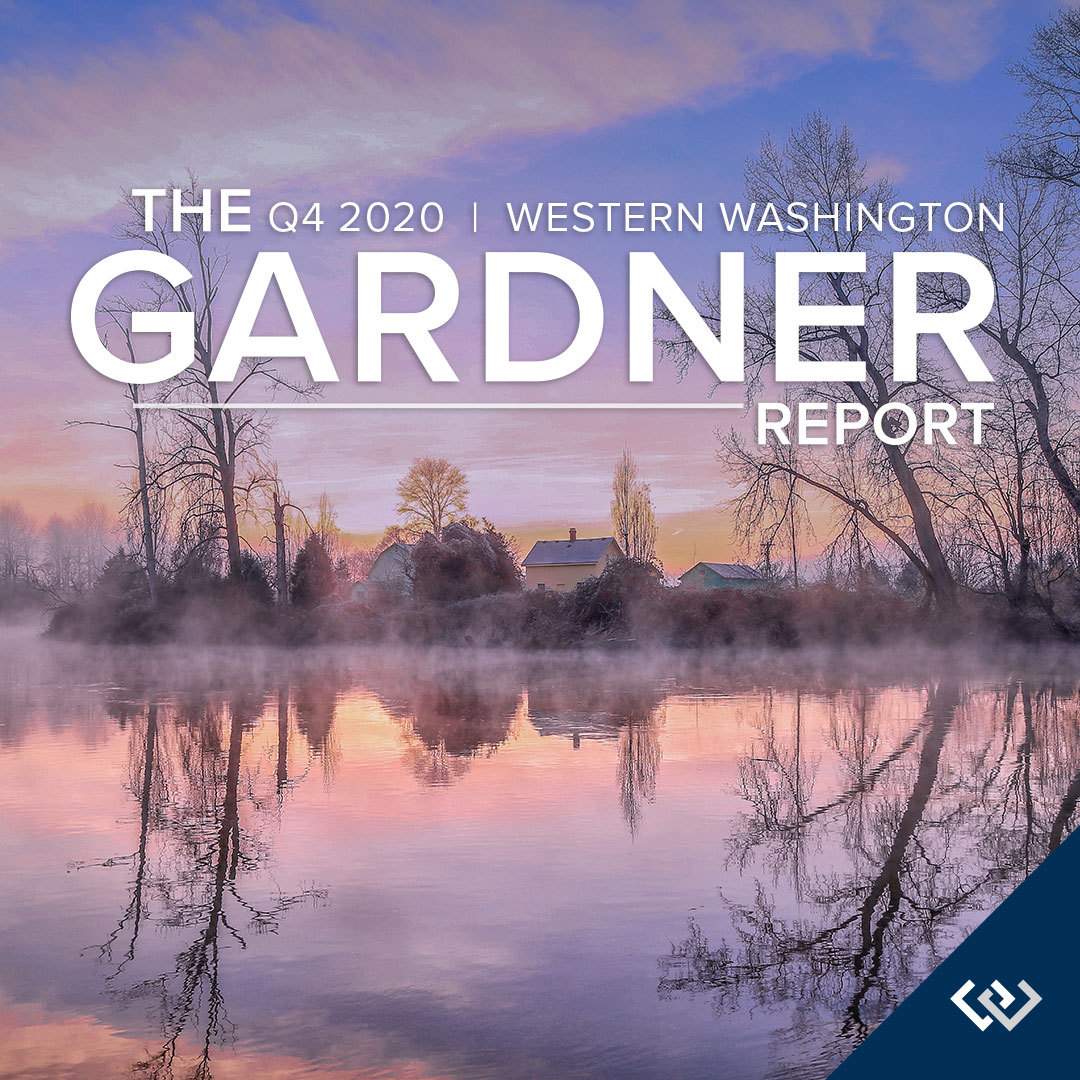 I am pleased to present the fourth quarter 2020 edition of the Gardner Report, which provides insights into select counties of the Western Washington housing market. This analysis is provided by Windermere Real Estate Chief Economist Matthew Gardner. I hope that this information will assist you with making better-informed real estate decisions. For further information about the housing market in your area, please don't hesitate to contact me.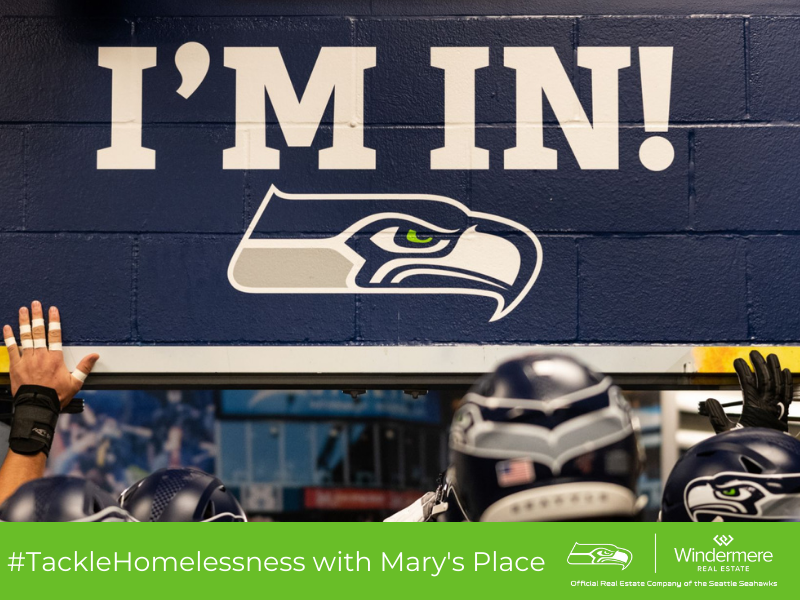 Windermere and the Seattle Seahawks partnered for the fifth season to #TackleHomelessness, raising an additional $32,100 for Mary's Place to support homeless children and families, bringing our total raised to $160,300! Read more on the Windermere blog.